Instructions for installing TeleCARD from "UZDIGITAL TV"
To view closed channels of "UZDIGITAL TV" on a TV with a built-in DVB-T digital receiver, you need a TeleCARD. This is a transitional device between the conditional access card and the digital receiver built into the TV. A conditional access card for UZDIGITAL TV is inserted into the module . The TeleCARD is inserted into the PCMCIA / COMMON INTERFACE slot of the TV.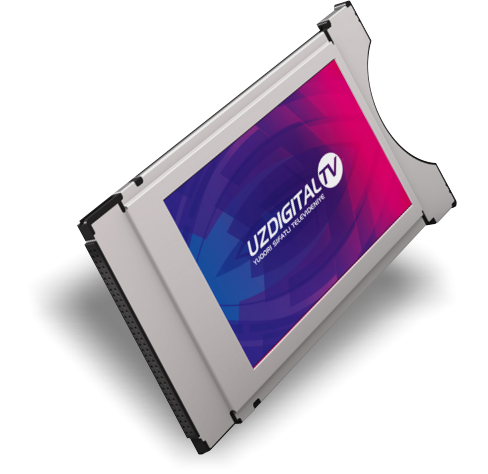 Advantages of using TeleCARD:
all control is carried out by a single remote control (remote control);
no external digital cable decoder near the TV;
accordingly there are no cables connecting the external decoder and the TV;
better image quality due to the built-in digital TV tuner of the TV, caused by the lack of conversion of the digital signal to analog, which is present when using an external digital decoder;
most modern TVs with a built-in digital TV tuner support HDTV. You will not need to purchase a separate HDTV-enabled decoder, just subscribe to the corresponding package and enjoy the image.
Application Of TeleCARD:
Attention!
Connect the TeleCARD to the TV, strictly in accordance with the operating instructions of the TV receiver.
Installing The TeleCARD
Please read these instructions carefully before installing the TeleCARD module.
Install the Tele-Card in the PCMCIA / COMMON INTERFACE slot of Your TV (some manufacturers may call it just CAM).
Back